An exclusive interview with Athanor - Inside Out: The Demos, 1973-77 is coming soon!
26
juin
2014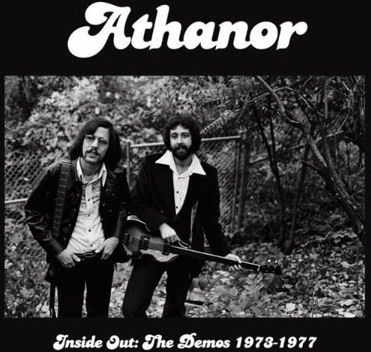 Some claim miracles are not possible. I am not sure how this is true when it seems clear that a single Flashback was not enough to fully (re)discover Athanor. So yes, there was more music locked up in the vault. Here is the proof, if we ever needed one, that a long lost treasure may hide another. Thank you Greg and Rick for keeping it hidden thus far.
In our first interview in November of 2011, you shared the story from the very beginning of Athanor and your self-released singles. Well, a lot has happened since then. Can you talk a bit about Flashback that came out last year on Guerssen Records?
Greg: It happened so fast. One day it wasn't there, the next day it was everywhere in the world and on the radio. It was reviewed by dozens and dozens of critics, magazines, record stores, web sites, and the reviews were mostly raves. Flashback was played on the radio in nearly every country you can think of. We played later last summer at the Hideout in Chicago and fans and friends and colleagues were all there. Of course I have stage fright every time I perform so I smiled a lot and faked a calm demeanor. Rick was great.
Rick: In our first interview with you, we mentioned that we thought we had enough music for an entire album. With the new interest in our music, we decided to try to make that a reality. Greg gathered as many of our old tapes as he could find, and we started going through the process of baking the tapes and digitizing what we had. Finding a studio that could save those old tapes was a bit of a challenge, but we found the right machine at Electrical Audio in Chicago. We worked with a guy named Steve who lovingly nursed the tapes and put the music in digital form. We brought the digital files to Paragon Studios. Our engineer asked if we'd met Steve, and we acknowledged that we had. Then he said, "You know, he's very famous….Steve Albini?" My jaw dropped to the studio floor. I couldn't believe I had met Steve Albini but didn't know it was him!!!
We worked for countless hours at Paragon, trying to get just the right sound to make it presentable for a record label. Once we were satisfied, we created a CD, with original artwork, and sent it out. Much to our delight, Guerssen Records decided that it was worthy of release.
How does it feel to hold an album in your hands, knowing that it's your and you finally made it forty years after you first wrote and recorded some of these songs?
Greg: Well, that was the moment, the culmination of young dreams fulfilled. Neither Rick nor I ever thought we would actually hold an album of ours in our hands. It was entirely surreal. And we thank the good people at Guerssen Records — but I don't think it's entirely sunk in yet that we have and album out, and now another about to be released. And another just begun! We're kind of like sleepwalking about the whole thing.
Rick: Your question goes right to the heart of the matter. Greg and I had often spoken of my disappointment that I'd never have that physical "artifact" of the artistic side of my life. He had his books, and many of our friends had records and CDs. So far, I'd had a good life, a good career, a good marriage, great kids, a grandchild. But it still felt like something was missing. And then the impossible happened. When we opened that box of albums and took out the first records, it was like holding a newborn in my arms once again, with the same sense of awe and wonderment.
Were you surprised by the reception it got? Did you pick up some unexpected fans?
Greg: Yes, we were surprised and delighted. Folks from Germany, Brazil, New Zealand, the UK all wrote to our Athanor Facebook page, and Rick and I were awestruck. In Great Britain I think they say gob-smacked. No, we couldn't believe it. We wrote and recorded those songs as kids, and now I'm a professor and fiction writer and Rick is an attorney. We thought our rocking days were long gone.
Rick: I wasn't prepared for the acclaim that followed the release of the album. You hope for good reviews, but I never imagined that the album would receive the sort of praise that it got. We even made a few year-end "best of" lists.
I was most surprised by the interest from the legal press... "Lawyer Realizes Rock and Roll Dream." Apparently many lawyers have similar dreams of fame and fortune in another career that they gave up before entering law school, and our success drew quite a bit of attention. I even got a beautiful handwritten note from my law school Dean congratulating me.
Greg and I have made so many new friends in the record collecting world and the music press. I came out of retirement, and because I travel for my job, I've had the opportunity to meet people around the world who have written about us or played our songs. Just a couple of weeks ago, I sat down for coffee with a DJ in Auckland, New Zealand, who told me that he discovered us through a music blog that had good things to say about our record.
What about the show you've played last summer at The Hideout in Chicago? How did it feel bringing out your songs in a live format?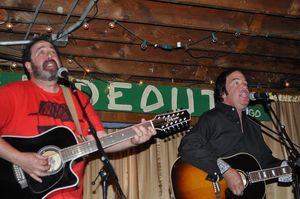 Greg: Yes, well — I've already touched upon that and my stage fright. We had 3 opening acts and didn't get onstage until midnight. But the crowd was good and oiled by then and so we cruised. It was a great delight and much fun. My damned guitar kept having to be tuned between every song so I've switched string brands.
Rick: Who would have thought that we'd ever be the headliners at a great Chicago music venue like The Hideout?
The interesting thing is that we had never played live ever. Not even back in the seventies. We were strictly a studio band. So this was a totally new experience for us. Our decision to perform acoustically, without a band or our multi-layered harmonies, caused us some concerns. How do you play some of those psych tunes without screaming guitars and wah wah pedals?? We did a radio interview a couple of weeks before the show, and the DJ played "Graveyard", saying, "And that will be one of the songs that you'll be performing live, right?" And we said, "Well, no…" But it got us thinking. We found a way to arrange it, relying on 12-string guitars for a fuller sound. And it worked!
I've been in many cover bands over the years, but it's so different when you're performing original songs. It was a magic night, with people who had heard our records actually hoping that we'd play their favorite songs from the album!
So your second album is coming out over here on Guerssen. Suffice to say, my surprise very soon turned to delight when you told me you found more material from the Flashback time period. Under what circumstances did you become aware of a possible release?
Greg: When I found even more tapes of other songs from back then, I wrote to Guerssen to see if they would like to do a follow-up all-demo album. They liked what they heard, so Rick and I went back to Paragon Studios to convert the tapes to digital, and we had re-mastering sessions from September 2013 till December 2013. And the shame is — there are another good 6 songs there that just got ruined by magnetic forces — being too close to speakers, etc. Some of those were my favorites — one called "Rock and Roll City," but it only exists as a fragment now.
Rick: We had to work out way through countless hours of music and alternate takes. Some of the digital files were 30 minutes long, sometimes containing three or four songs, writing demos, false starts, sound drop outs. But it quickly became evident that we had more than enough for a second album.
You came back at Paragon Studios in Chicago where you were booked in for Flashback. Can you tell me about the recording of the material for Inside Out?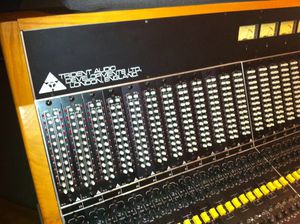 Greg: It was re-mastering, mostly. We cleaned up a few. We did find a writing demo of a song called "Roll Me like the Ocean" from 1976, and we enlisted the help of fellow musicians John Belpedio (bass), Marty Jacobs (drums) and Jeff Murphy of Shoes (he sang back-up harmony). What a kick! A brand new recording, with part of Shoes! These fellows are all expert players, the best around. Rick and I are very grateful for their performances. And Joe Connors, our engineer, captured the whole thing.
What did you have to do to it to freshen it up? How was making these demos sound correct and balanced for this album different than for the first LP?
Greg: That is a good question. They were recorded by more modest equipment and needed all the help they could get. We had to nurse this one along and refrain from doing too much extra production work, or else we would get what they call "digital artifacts" — which simply means you've overloaded the digital circuits. We ran it clean and simple to keep it as true to the original home demos as possible — better to keep it clean than complex.
Would you mind telling me the history of Roll me like the Ocean, remained in draft form until last year, and how you finally managed to complete it? I don't believe I'm wrong in saying that a guest was here to support you in the process.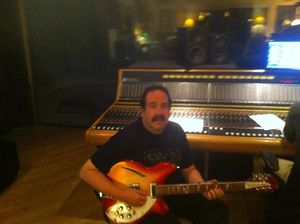 Greg: In a manila envelope I found photos of us and lyric sheets. One was called "Roll Me like the Ocean," and I had a vague memory of how it went. One night at home I ran through it, found the right chords, and I played it for Rick during the next rehearsal. He loved it, and he was the one who decided it should be re-recorded for the new album. It was a good call and I thank him for it. That song is a bit of a time machine.
Rick: I liked the song so much that I thought we should perform it live at The Hideout. It was very well received, so when it came to doing the second album, I thought it would be great to include one newly recorded song, especially one that Greg had written in the seventies. We'd had one "new" song on Flashback, so we thought it would be a good idea to continue that tradition.
We enlisted the help of two musician friends of mine. John and I had played together in a band called Half Dazed for years, and I'd gone to high school with Marty. Interestingly, John and Marty had also played in a band together. We put down the basic tracks at Paragon with them, and then went to work on the vocals. As a final touch, Jeff [Murphy] came in and put the icing on the cake. We didn't tell him what to sing... we just told him to do whatever came naturally to him. And he brought his own original style to the final mix.
What kind of equipment was used?
Greg: We recorded on a TEAC 3340 4-track tape machine running at 15 inches per second. I played a Hofner Bass, as did Rick, a Rickenbacker 320 black guitar, a Rickenbacker 360 6 string, a Rickenbacker 325 amber sunburst guitar, a Rickenbacker 360 12 string Maple Glow with double binding, and a Guild 12 string acoustic. Rick also played a Gibson 6 string acoustic guitar, a Gretsch Tennessean, and a Fender Telecaster. I had a VoxAC30 watt amp. We mixed through a custom made board through a Sansui Quad amplifier and JBL speakers. We had some good stuff in that apartment. I'm surprised it was never robbed.
More generally, could you give a brief commentary on the songs that form Inside Out?
Greg: Randomly scanning the play list, the first thing that comes to mind is "Something That's Coming." I had just bought the Teac tape recorder and didn't even have a mixing board yet. But one morning I woke up, went downstairs, wrote it, and recorded it. It was one of my first home recordings. Lots of Gretsch 12 string.
"Moral Sense" was also an early one. I had just read Mark Twain's "The Mysterious Stranger," so the ideas of a corrupt community and evil forces were with me.
"Somehow, Someway" was about the passing of my dad in 1975. He was there one day and gone the next. I wasn't all that familiar with death, and that one knocked me over.
"No Long Song" was supposed to be on our second single, but we only had a home recording. It's me mouthing off about my rebellious social views.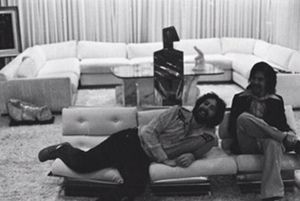 "I Feel So Bad" was a real moment in time late at night. I imagined I was flying over the frozen winter night. I recorded it on several tracks while I was still in the weird existential mood.
In "Behind a Cloud" I was trying to tell a girl I was in love with her.
As stated in the liner notes, I wrote "Inside Out" for Dion, and he was very receptive to it, but his producer was going in a different direction than his recent Phil Spector album, Born to Be with You.
"Love Shining is me in my Lennon "Cold Turkey" mode. I worked hard on the guitars solos.
"Roll Me like the Ocean" is newly recorded. I even forgot I had written that song. We put it in the live act, and then asked Jeff Murphy of Shoes to join us on vocals. Thanks to John Belpedio on bass and Marty Jacobs on drums.
Is there any main source of inspiration behind this collection?
Greg: It was just the times. I felt freer because I recorded everything in my living room. There were no rules, so anything that was on my mind went into the songs.
Rick: I had been listening to The Beatles Anthology and The John Lennon Anthology while we were working on the album, and started thinking that it would be fun to include little snippets of music that I had found on the digital files. So we chose to start "Roll Me like the Ocean" with a fragment of the Greg's writing demo... sort of like listening to John's writing demos of "Strawberry Fields Forever" and then going into the final version. I love the way it worked out. When I heard the harmony track for "You Look At Me," with nothing but a bass guitar bleeding through, I was reminded of The Beatles' a capella track of "Because" and a harmonies-only track that I'd heard of The Beach Boys' "God Only Knows." Because Athanor has always relied heavily on harmony, I wanted to include an example of that sound. So that became the reprise. And we end the album with a fortunate mistake... somehow, a tape with "Graveyard" was rewound incorrectly. So when we got the digitized files, we ended up with the entire song backwards. Sometimes I'd find myself listening to the whole thing, so we ended up putting just a little bit of that at the very end of the album.
Greg, as a writer, what would you say about songwriting? What makes a great song? Are you looking for one line that you can build around or specific images? Is it difficult to capture the essence of complicated feelings and ideas in one or two lines? Is your prose writing, something entirely different?
Greg: There are no boundaries to inspiration. If I imagine a character or a situation, if I improvise a piece of dialogue — I have the germ of a short story or novel. If I play an accidental riff, or come up with a melody in the shower (and I can get to a recorder in enough time, dry or otherwise), I have a song. Something life altering may need expression, but the music is always almost pure accident.
For this album of new Athanor songs we are currently recording, I have a song I wrote over 3 years in the shower. I finally forced myself to set lyrics down, then, after all that time, I found the chords on a guitar. Because I had never tried to play it, now that I have the music and lead parts, I feel as though it is brand new. Can't wait to record it and play it live this August. Very spooky Zombies kind of number.
Hearing most of the tracks from this LP, I would say that the word Demos does not do justice to Inside Out. Although some of these cuts may fit the common perception of homemade recordings like the moody acoustic pop numbers such as Behind A Cloud, Die, You Look At Me, others show something like a different and very elaborate aspect - the more proto power pop related stuff – like the landscape of guitar effects and drums of Love Shining and I Feel So Bad or the crunchy electric and acoustic guitar interplay of Inside Out.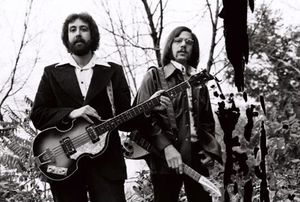 Greg: Well, you see, you are very kind. "Love Shining" feels finished, as does "I Feel So Bad." Certainly "Roll Me like the Ocean" is finished. Rick and I are very fortunate that we tried to convey the whole essence of the songs in the recordings, whether we had the proper instrumentalists or not. We'd just do whatever we could spontaneously to get the effect so people would understand what the songs were about. We would improvise. We are very pleased you like the results.
In a wonderful Roctober review of Flashback, Brian Cremins referring to Blake's The Mental Traveller describes Athanor as "the continuing adventures of two young men, now a little older, who offer us stories from a corner of rock and roll's neglected past". So, it's only just begun?
Greg: Only just begun sounds a little too close to a Carpenter's number, and it may be overstated, though again, kindly so. I think it's just not over yet. There's a more accurate phrase. I wish you could hear the new material and the work of the fantastic set of guest musicians we've recruited. And of course Rick and I will play and sing as always.
Speaking of rock and roll stories from a corner of a neglected past, the lead off track is all about that, and all the guests (save one) appear on that big rock and roll track. It's our big production number.
Yes, and many thanks to Brian Cremins for that wonderful article about Athanor's Flashback and the connection to Blake. Cremins is a remarkable writer, academic, and musician in is his own right. His lead guitar solos would blow you away.
Thanks for the opportunity to answer these questions, Alexandre!
Rick: I think Brian got it just right. Thanks to renewed interest in us, Athanor continues. Although we're older, our music and influences remain pretty much unchanged. And Greg still has a treasure trove of songs that he wrote in the seventies that deserve hearing. Despite the passage of time, the "Athanor sound" can never change, because it always comes from the two of us.
Last but not least, you can to listen to one of the many fantastic songs from Inside Out on the Guerssen YouTube page: https://www.youtube.com/watch?v=mDcm_8B6gzo
http://stereohysteria.podomatic.com/entry/2014-08-01T22_00_00-07_00